Pick fruit in Denmark in 2023?
We are currently hiring people for picking strawberries and peas in the summer of 2023 in Denmark.
Find more information about the job and how to apply below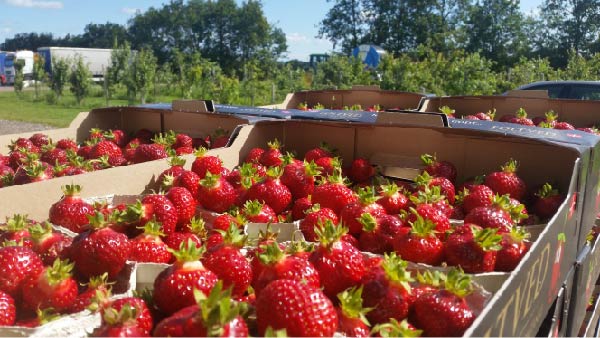 Here is a little information about the job, and how a typical workday can look like.
We start in the field every morning at 4 o'clock with picking strawberries. We aim at being finish with strawberry picking around 10 o'clock.
Then we split up in different groups where some pick peas and some picks up potatoes from the ground for 1-2 hours.
Some days are longer and some days are shorter – it all depends on the weather, size of orders and how good the fields are that day.
Its important to understand, that you must be in good physical condition and be prepared to work on both sunny days, aswell as rainy days to manage this job. Picking strawberries is a hard job, and requires focus and fast fingers.
The season starts around the 1.st of June, and ends around the 20.th of August. We only hire people who plans to stay for at least one month.
When you apply, and we contact you, we can agree on which period you want to work.
Picking of strawberry and peas is paid per box, and we pay the following rates
– Box of strawberry (5,2 kg) =  5,3 euro
– Box of peas (6,1 kg) = 6,4 euro
We expect the quality of the strawberries and peas to be of the best possible quality.
BONUS: if you stay the whole season and pick the right quality, listen to and respect the supervisors we will pay the following bonus.
 – Extra bonus per box of strawberry 0,5 euro for all boxes
– Extra bonus per box of peas is 0,6 euro for all boxes
Occasionally there will be a some work paid per hour with cleaning weed or some other small jobs. Work paid per hour is paid with 18,77 euro per hour.
On top of this you also get 12,50% holiday money according to danish law.
Accomodation is as following:
– June = 11,4 euro per day ( 85,- danish krone)
– July = 10,0 euro per day ( 75,- danish krone)
– August = 8,7 euro per day ( 65,- danish krone)
We rent housing wagons, where up to 4 persons can live in.
The wagons contains a shared kitchen and dining area, a bathroom, and either 2 double rooms, or 4 separate rooms.
The kitchen has a refrigiator, oven, stove, wash and besides this, there is a washing machine in every wagon for washing clothes.
Unlimited Wifi usage is also included
Since the farm is located 2,5 kilometers from the nearest city, there is also bikes available, so you can get to the grocery store.
You are velcome to bring your own car, if you want.
click on the picture to see a bigger version.
The farm is located in the northern part of Denmark near the city of Aalborg.
The farm has been growing and selling strawberries for 28 years of the highest possible quality.
There is a high focus on good quality and the products are sold to directly to grocery stores and in own shops.
Every summer the farm hires around 60 persons for picking fruits that lives on the farm.
A couple of times during the season there will be pizza gatherings, where the farm buys pizza for everyone and we sit and eat together.
If you have any further questions, please feel free to contact us via our messenger on our Facebook page.